Anatolian Shepherd Dog
General Information - Anatolian Shepherd Dog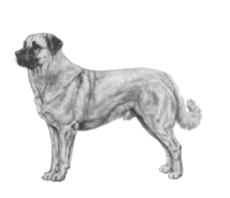 Group:
Utility
Size:
Large
Lifespan:
10-13 years
Exercise:
Medium
Grooming:
Low
Trainability:
Medium
Watchdog Ability:
Very high
Protection Ability:
Very high
Area of Origin:
Turkey
Date of Origin:
Ancient times
Other Names:
Coban Kopegi, Karabash Dog, Kara Bas, Kangal Dog
Original Function:
Flock guard
---
History
This is an ancient breed native to Asia Minor. It is also known as the Turkish Guard Dog where he protects flocks and serves as a shepherd's companion. On the high Anatolian Plateau, where summers are hot and very dry and winters are cold, the Anatolian Shepherd Dogs lives outside all year round. For centuries it was used as a combat dog in war and for hunting. It was particularly valued for the victorious battles it could fight with wolves. As a sheepdog, it was bothered by neither fatigue nor bad weather. Today it is still used as a sheep dog as well as a guard dog.
Temperament
Alert and protective, the Anatolian Shepherd Dog is very possessive of its family and home. It must be properly introduced to all strangers. Though Anatolian Shepherds are easy to train and highly intelligent they are not for beginners and require a firm handler. Anatolian shepherds only reach full maturity at around 4 years of age.
Upkeep
The Anatolian shepherd needs a chance to exercise every day, either with a long walk or brisk run. It can live outside in temperate to cool climates. Coat care is minimal, consisting only of a weekly brushing to remove dead hair.