Other Activities
Just a few of the things that you can do with your dog
Agility
Agility is to dogs what show jumping is to horses but much more fun and fantastic to both watch and compete in. The dogs love it!
The competition has four categories: Starters, Novice, Intermediate and Seniors and is based on a set course of obstacles with the added incentive not only to clear all obstacles but to complete the course in the best possible time. This demands teamwork, precision, speed and a faultless performance.
There are a number of
Agility clubs
throughout New Zealand. If you are energetic and fit and have a dog that fits the same bill then this is definitely a sport for you.
Rally-O
Rally-O combines skills that come from other disciplines, obedience, agility, dancing with dogs, etc and provides a sport that is very motivational for both dogs and handlers, especially the dogs, as the handler may speak and encourage them through the entire course. Although accurate work is desirable, there is not the need for the same degree of precision that is required in the obedience ring to succeed in rally obedience. Commands may be repeated and if the handler wants to they may even request a retry at any station during the course.
As Rally-O grows in popularity, many obedience clubs are offering training, many groups of friends are gathering basic equipment and sharing the Rally-O learning curve together.
Gundog Trials
Field Trials is yet another aspect of the canine hobbies. The ability and intelligence of well trained and well-bred Gundogs is remarkable. The dogs are required to retrieve fallen game with the retrieve pattern of varying degrees of difficulty, depending on the level attained.
Clubs affiliated
to Dogs New Zealand regularly hold field trials. Competition leads to the obtaining of championship and other titles related to the sport of field training.
Sledding
Sledding, backpacking and weight pulling
Therapy Dogs
Therapy Dogs have a simple mission and their effect is profound. The therapeutic effect that dogs have upon us is well documented. They bring cheer and comfort with an affectionate nuzzle or lick of a hand. Dog's antics are a distraction from lifes rigours, while caring for them stimulates activity.
Dances with Dogs (Paw's N Music)
Dances with Dogs, also called freestyle obedience or heelwork to music, provides handlers and dogs to demonstrate a skilful, choreographed routine performed to music. It requires innovation and creativity as well as an excellent rapport between the handler and dog team. The routine not only moves in time to the music but often interprets the music or tells a story. The style of dance and music varies greatly from team to team. This is a fantastic spectator sport.
Lure Coursing
Lure Coursing is pure fun! There is no competitive side to it all. The dogs simply get to chase a lure around a course as they jump, pounce, run, spin and just enjoy themselves.
Tracking
Tracking utilises the amazing sense of smell that all dogs have. All dogs can track and many enjoy this sport.
Canine Friends Pet Therapy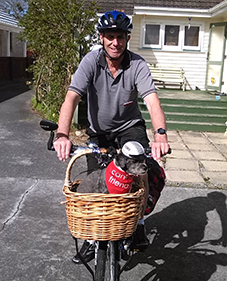 Canine Friends Pet Therapy is a New Zealand-wide network of people who share their friendly well behaved dogs with other patients in hospitals and residents in rest homes and hospices.
Proudly supported by Dogs New Zealand.
Visit their site to find out how you can become involved.