Collie (Rough)
General Information - Collie (Rough)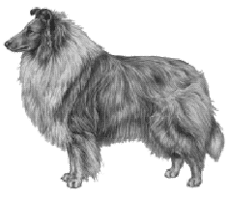 Group:
Working
Size:
large
Lifespan:
8-12 years
Exercise:
medium
Grooming:
high
Trainability:
medium
Watchdog ability:
very high
Protection ability:
medium
Area of Origin:
Scotland
Date of Origin:
1800s
Other Names:
Scottish Collie
Original Function:
sheep herding
---
History
For centuries the Rough Coated Collie was hardly known outside Scotland, but it is now one of the world's most popular breeds. Descended from generations of hard- working herding dogs, it is a conscientious creature of immense intelligence. They are used as water rescue dogs and have served man as sheepdogs for centuries, guarding and herding flocks. The breed's name probably comes from its charge; the Scottish black-faced sheep called the Colley. Early Rough Collies were smaller, with broader heads and shorter muzzles. The Collie is so intelligent that he has been trained for many purposes, as a rescue dog, guide for the blind, movie star, and as a guard dog. Queen Victoria kept Collies at Balmoral Castle in Scotland and her interest launched the breed's subsequent popularity.
Temperament
The Collie is a very intelligent, friendly dog breed, who makes an excellent children's companion and gets along well with other household dogs. Suspicious of strangers, the Collie makes a good watchdog.
Upkeep
A good walk or jog on leash or a fun play session is needed every day. Herding is an excellent exercise. The collie can live outdoors in temperate to cool climates, but it is such a family-oriented dog that it is far happier indoors. The coat of the rough variety needs brushing or combing every other day, more when shedding.