Mastiff
General Information - Mastiff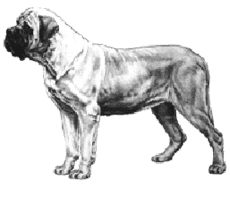 Group:
Utility
Size:
Extra large
Lifespan:
8-10 years
Exercise:
Low
Grooming:
Very low
Trainability:
Medium
Watchdog Ability:
Very high
Protection Ability:
High
Area of Origin:
England
Date of Origin:
Ancient times
Other Names:
English Mastiff
Original Function:
Guardian
---
History
The Mastiff is descended from the large, mastiff-type dogs brought to Britain as early as the 6th century BC, by Phoenician traders. The dogs were crossed with local fighting dogs and were used for hunting, and as fighters against bears, lions, bulls, and eventually dogs. However they were most prized as a family guardian, courageous, yet devoted to their family; they maintained this popularity for over 2000 years in Britain, only to be reduced in numbers close to extinction after World War II; a breed census confirmed that there were only eight dogs of breeding age left. With the help of a Canadian breeder who sent over puppies, the breed was restored, and has again attained a high level of popularity.
Temperament
The Mastiff is a courageous and intelligent dog, yet gentle and biddable. It makes a wonderful companion in a setting with a good deal of space. As with all dogs that are giants at maturity, training should begin early during puppyhood.
Upkeep
The adult mastiff needs daily moderate exercise, consisting of either a good walk or game. It does not enjoy hot weather. It can live outdoors in temperate or cool weather, but it does not do well in warm weather; in fact, even though it may be physically able to live outside, it is a breed that should live inside with its family so that it will be inclined to fulfill its role of devoted guardian. It tends to drool. Coat care is minimal.