Rottweiler
General Information - Rottweiler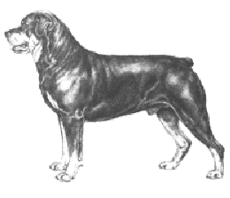 Group:
Utility
Size:
large
Lifespan:
10-12 years
Exercise:
medium
Grooming:
very low
Trainability:
medium
Watchdog ability:
very high
Protection ability:
very high
Area of Origin:
Germany
Date of Origin:
ancient times
Other Names:
none
Original Function:
Cattle drover, guardian, draft
---
History
The Rottweiler descends from a line of powerful dogs that drove and guarded the cattle of the Roman Army as it traversed Europe. In Rottweil, Germany, this mastiff-type dog was crossed with local herding dogs and was bred specifically as the "butcher's dog of Rottweil." The dog would accompany and guard the butcher on the way to cattle sales, carrying his money en route; he would then drive the purchased beef-on-the-hoof home. An effort was made to conserve the breed when mechanised transport replaced the job of the courageous Rottweiler. This breed requires plenty of room and exercise. He is often nicknamed the "Rottie".
Temperament
The Rottweiler is a very territorial, imposing dog breed and is ideal for protection. Headstrong and stubborn, this dog breed requires a strong leader and firm training.
Upkeep
The Rottweiler needs daily physical and mental activity, either in the form of long walks or jogs, or a vigorous game in a safe area, as well as obedience lessons. It enjoys cold weather and may become overheated in hot weather. It can live outdoors in temperate to cool climates, as long as plenty of shelter is available. It needs to spend significant time inside with its human family, however, so that proper bonding can occur. Coat care is minimal, consisting only of occasional brushing to remove dead hair.