Scottish Terrier
General Information - Scottish Terrier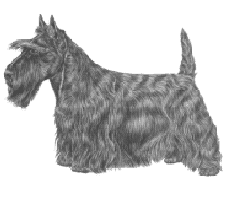 Group:
Terrier
Size:
medium
Lifespan:
11-13 years
Exercise:
moderate
Grooming:
moderate
Trainability:
very hard
Watchdog ability:
very high
Protection ability:
low
Area of Origin:
Scotland
Date of Origin:
1800s
Other Names:
Aberdeen Terrier, Scottie
Original Function:
Vermin hunting
---
History
The Scottish Terrier was developed in Scotland in 1700, but the dog with the size and shape we know today dates from 1890. The breed was first called the Aberdeen Terrier, after the Scottish town of the same name. Like many other long-low breeds, the Scottie was used to hunt den animals, particularly otter, fox, badger and Rabbit. Today this stylish breed is primarily a companion, though he still retains his hunting instincts.
Temperament
The Scottish Terrier is a self-assured and alert dog breed that makes a good watch dog. Loyal with their owners, the Scottish Terrier may be aloof with strangers and aggressive with other dogs.
Upkeep
This is a dog on the lookout for adventure, and it needs some excitement and exercise in its life every day. This can take the form of a moderate walk on leash, a boisterous game or an off-leash exploration in a safe area. Although it could live outdoors in a temperate to warm climate, it is far better suited as a house dog with access to a yard. Its wire coat needs combing two to three times weekly, plus shaping every three months. Shaping for pets is by clipping and for show dogs by stripping.